Linda E. Wilder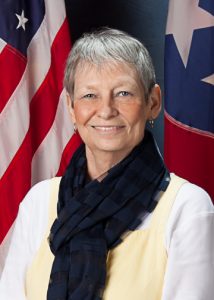 1950-2015
Linda E. Wilder, 65 of Morristown, died at her home on Saturday, Oct. 31, 2015.
Her final days were spent surrounded by her family and closest friends.
Linda was born May 2, 1950 in Morristown to Ethel Lee. Her father, Jimmy Lee was tragically killed in a car accident before she was born.
She has one older sister – Laura who was as close as a twin and her best friend (and childhood enemy) throughout her life.
Linda graduated from Morristown High School in 1968. She worked for the State of Tennessee at the Department of Safety for 17 years issuing Driver's Licenses.
In 1998, she was elected as Hamblen County Clerk and proudly served in that role until her death. She always said her greatest love of her job was working and serving the public.
Linda had one son, Tron, and daughter-in-law, Kristie. She had two young grandchildren, William "Ace" and Anderson "Jude." She had said during her final days that her grandchildren were the best medicine that she could have.
Linda was a member of the Morristown Seventh-day Adventist Church and a proud supporter of the Adventist church school.
Linda is survived by her mother, Ethel Lee Horner; sister, Laura (Bobby) Wisecarver; step-brother, Randy (Jackie) Horner; step-sisters, Wilma (Daryl) Longfellow and Pat (Ray) Hansen; son, Tron (Kristie) Wilder; grandsons William Ace and Anderson Jude; nephews Scott (Selena) Lawson, David (Lisa) Lawson and Chris Wisecarver; aunt, Laura McNabb; uncle, Ed Seals; several cousins, great-nieces and great-nephews whom she greatly adored; ex-husband and caretaker Kenneth Wilder.
At Linda's request, no funeral will be held but everyone is welcome to attend the graveside service at Hamblen Memory Gardens in the garden of Everlasting Life Tuesday, Nov. 3 at noon.
Memorial donations may be sent to Morristown SDA School, 360 W Economy Rd., Morristown, TN 37814.
Arrangements by Stetzer Funeral Home.
Published in Citizen Tribune on Nov. 2, 2015