Features
Go to Hunting and Fishing Licenses
Hunting and Fishing Licenses
State hunting and fishing licenses are sold in the Clerk's Office. Visit the Tennessee Wildlife Resources website by clicking on the Wildlife logo below. Please close the Wildlife website to return to Hamblen County Clerk's website. For questions, please call the office at 423-586-1993 or 423-318-1536.
Go to Marriage Licenses
Marriage Licenses
Click on the image above to see the complete list of requirements for a Marriage License in the state of Tennessee. On this page you will also find the Online Marriage Licenses Application as well as a link to Search Marriage Licenses Records Online.
Go to Drivers Licenses
Drivers Licenses
Hamblen County also has a Satellite Office for the convenience of the citizens. In addition to providing most of the licenses mentioned, this office also offers express driver license services, accepts voter registrations, and accepts payments for county property taxes.
Go to Passports
Passports
Click the image above for the complete Passport Procedure. *For extensive online travel information visit www.travel.state.gov
Our Office now has the ability to take Passport Photos for ages 1 and up at the Parkway office for a fee of $15.
Penny Petty
Hamblen County Clerk
I was born and raised in Hamblen County. I graduated from Morristown Hamblen High School West in 1975. I am married to William Donald Petty of Claiborne County and have two sons Scotty NeSmith of Morristown and Marty (Jeanie) Petty of Rogersville.


I began my public service in 1985 with Driver's License Division as a License Examiner. From 1998-2001 I was a new examiner trainer at the THP training center and at the Tennessee Law Enforcement Training Academy. I became a certified CDL Examiner in 1999. I served as Driver's License Supervisor for offices in 8 East Tennessee counties from 1998-2001. I was responsible for training the County Clerk who was the first clerk in East Tennessee to issue driver's licenses. I also helped create the driver's license handbook for clerks and received several certifications in Customer Service.


I began working at the County Clerk's office as a bookkeeper in 2001 and was promoted to Chief Deputy Clerk in 2006. I completed the Certified Public Administrator (COCTP) from the University of Tennessee in 2009.


As Chief Deputy I have been responsible for the supervision of two locations of the County Clerk's office with up to 18 employees. During my time as Chief Deputy, I have been responsible for training and launching many updated programs for the Clerk's office. These include passport training and yearly re-certification for all passport clerks, the electronic voting system for the Hamblen County Commission, printing titles in the office which allows most customers to receive title within 7-10 days, computerizing the marriage and notary systems, issuing birth certificates, and the new license decal printing system.


In November 2015 I was appointed to fill the term of our county clerk, Linda Wilder, until the election. I was elected to the position in August 2016 for a two year term and again in August 2018.


Since becoming the clerk I have fought hard to keep our satellite office open for the convenience of the public. I have gotten several services reinstated by the Department of Safety and Homeland Security in the issuance of driver licenses to help our elderly and commercial customers.


I continue to serve as treasure of the Women's Republican and now also the treasurer for the Hamblen County Republican Party.


My goal for this office is to maintain great customer services for the citizens of Hamblen County.
Meet the Staff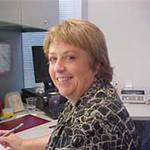 Rose Elkins
Chief Deputy Clerk
Serving since 1983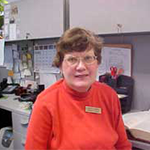 Mary Scott
Data Entry Clerk
Serving since 1990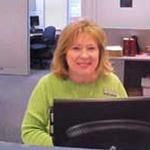 Peggy Henderson
Deputy Clerk
Serving since 1996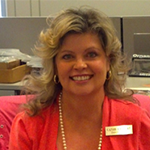 Cathy Lambert
Deputy Clerk
Serving since 2013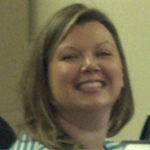 Holly Shackelford
Deputy Clerk & Passports
Serving since 2013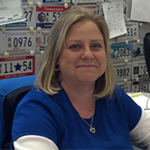 Tammy McAmis
Dealer Clerk
Serving since 2007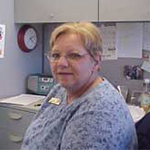 Sharon Conway
Title Examiner Clerk & Cashier
Serving since 2003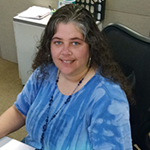 Nikki Drinnon
Driver Licenses Clerk
Serving since March 2010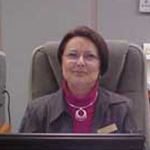 Gail Free
Deputy Clerk
Serving since 2007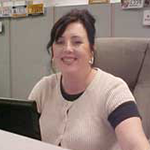 Selena Lawson
Deputy Clerk & Passports
Serving since 2000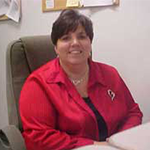 April Barnard
Dealer Clerk
Serving since 1999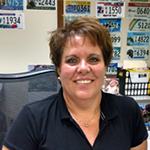 Tracy Gilbert
Deputy Clerk
Serving since 2012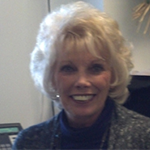 Sandi Bloomquist
Bookkeeper
Serving since 2014
In Memory of Linda Wilder